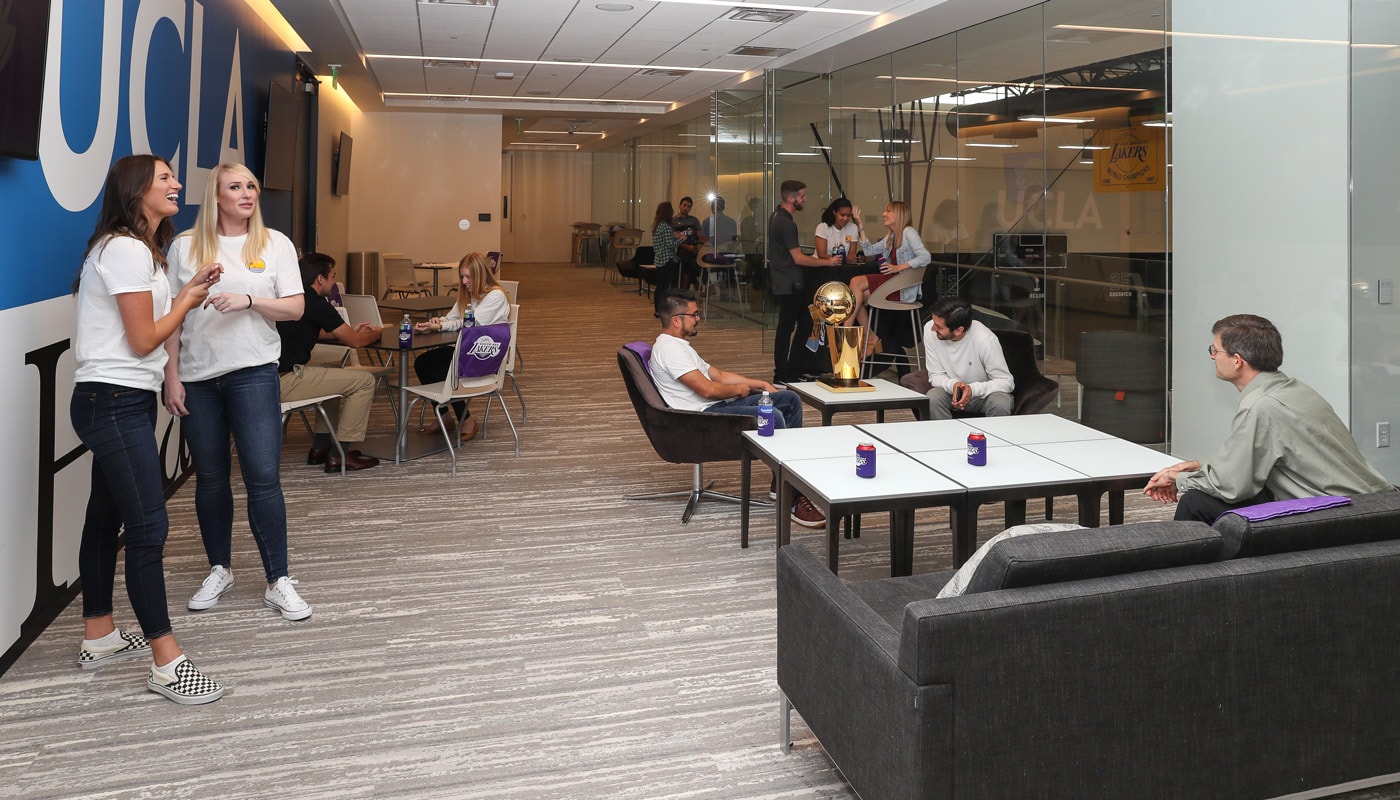 Experience the Event Suite at UCLA Health Training Center
This private hospitality space provides a one-of-a-kind VIP experience to host valued clients, entertain employees, as well as celebrate an amazing time with family & friends! The suite extends the length of the court, providing plenty of comfort for up to 75 guests and offers amazing views of tomorrow's NBA stars! Our clients receive exclusive experiences, such as photos with the Championship Trophy, visits from the Laker Girls, opportunity for your team to play on the court, as well as a professional group photo! We invite you to experience our championship-caliber hospitality!
Nightly Rental
Bring your team to watch our team for a game and receive the following benefits & amenities:
75 Tickets
Pictures with the Championship Trophy
Group Photo on the court
Option to add catering
Cost: $50/person
Catering Options
For your private event at a South Bay Lakers game in our event suite in UCLA Health Training Center, we are proud to offer the services of our catering and beverage partners.
For all food orders (no beverages), please reach out to:

Kaycie Fellows


Director of Catering & Special Events
Critic's Choice Catering & Event Production, Inc.
events@criticschoicecatering.com
310-418-1969

Snack Packages Priced at only $15/per person – Full Service Catering starting at $30/per person – Complimentary Event Planning Included with Catering
For all beverages, please reach out to:

Jim Reach


213.479.6838
jameshreach@gmail.com

You are able to get a cash bar or purchase certain options beforehand. Please work with our beverage provider to determine how the private bar will run on the night of your event and the specific beverages you will want.
3-Game Plan
Extremely flexible entertainment package! Provides companies a great way to host multiple clients and employees all while fitting perfectly within their schedules!
75 Tickets
Any 3 games
Group Photo on the court
Visit from Laker Girls
Opportunity to play on the court
Discount on merchandise
Option to add catering
Pricing and Availability: 310.343.3131 or tickets@sb-lakers.com
VIP Table
Courtside table available on a nightly rental basis. Includes the following benefits & amenities:
4 seats located on the floor
Pictures with the Championship Trophy
Group Photo on the court
Pricing and Availability: 310.343.3131 or tickets@sb-lakers.com